I could never imagine how emotionally effected I would get about my sister giving birth to her first child. She, my little little lovely sister. Once a little girl, now a grown up woman with a little person that looks like her but isn´t her. As a big brother you´re always worried about your little sisters. And I´ve been so nervous and in the same time excited about her pregnancy and future child. 9 months is a hell of a long time. Or maybe I should say, a long time of hell, according to my sister at least.
Two days ago when I went to bed my sister told me that they were on their way to the hospital. It was about time to deliver. The little thingy had decided to make a late checkout but now, a week over time it was finally due! My sister (Cecilia) and I were communicating via a Facebook chat with our other little sister (Emilia). Cecilia kept us posted more or less live about what was going on at the hospital while I spent some time with good friends watching the amazing football game between Iceland and England. Yes, that epic game when Iceland won and shipped the Englishmen back to their Brexit problems.
Anyhow, I went to sleep early that night. I had an important business meeting the day after. When I woke up my sister had posted the most amazing photo of the most beautiful creature I´ve ever seen. 50 cm and 3,8 kg pure love! I instantly started crying. An explosion of feelings. She said that the baby was all fine.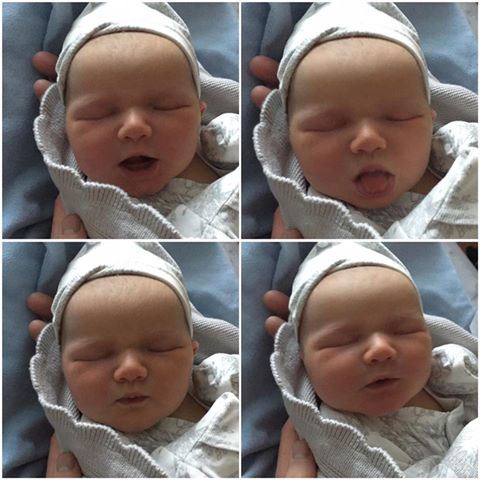 I couldn´t think of anything else that day. The business meeting went very good but my mind was somewhere else. I felt a huge desire of telling the whole world about the news. When I entered my office and met my collegue I showed her the picture of the baby. I broke into tears the same second. What the hell! Everytime I said the words "my sister gave birth today" the tears came rolling.
When I later spoke with my sister on the phone, the baby started crying. I thought I was done crying but the little thingy elicited some more salty waters from my eyes. It was so freaking powerful to hear that little voice. A voice from a little person that my sister and her boyfriend are responsible for. How crazy is that! Good thing I had two of my very best friends in the apartment at the time. They gave me a huge hug and comforted me the very best way possible.
I love you little baby, I will probably cry when we see each other for the first time but after that I promise to be a sunlight in your life. See you soon!