Life is good
Life is so good. I got a euphoric feeling in my body at the moment. So many good things going on in my life right now. I almost wonder what I have done to deserve it.
I really can´t explain how many things have happened since I last wrote something on the blog. At the time I was thinking about moving to a startup community in LA or buy myself an RV and go around Europe with it. It was almost 8 months ago. Last time I blogged i wrote about "the horrible vacuum feeling after graduating from the university" and I also revealed that I had a new project going on. So what happened?
Well, I was looking for a context/forum/belonging that suited me. I´m an entrepreneurial super nerd. I eat entrepreneurship and business for breakfast, I breath entrepreneurship, entrepreneurship is by far my biggest interest and passion. But I didn´t have to cross the Atlantic to find the context I was looking for. It was actually right in front of my eyes. I met with John. John is the guy I always met on these entrepreneurial meetings at the university or down town or at different creative workshops. We always happened to end up in the same group and we always had a very nice chat about business. And god knows John can talk business. He´s as nerdy as I am. So I met with John for the 5th time at a workshop with IKEA. We said that we should go for a cup of coffe or such. Yeah yeah, we did say that before and nothing happened. But then we actually found a time for it and put it down in the calendar.
We saw each other in a local coffé shop here in Växjö. John was talking about his grand dad´s house and how he wanted to build apartments down in the basement. He was asking me for advice since he knew I was interested in real estate and was just recently about to invest in my own first property. I told him about my plans moving to a startup community in LA and that I was looking for a place where I belong. All of a sudden he told me that he would move into a three room apartment with a business colleague and focus on their business and work hard for 12 months before they went traveling the world. He told me about Island Of Entrepreneurs. A community where all kind of entrepreneurs meet and talk about business, help each other out and maybe do business together. Wow! I was stunned! And the best was jet to come, this would happen in their apartment on campus in Växjö. Damn!
My eyes shine bright like a kid on christmas eve. I totally loved the idea. And John probably saw it because two seconds later he asked me "so…are you in?" and raised his hand, ready to close the deal. As much as I wanted to scream out loud of happiness and shake his hand, I´m not the guy closing deals without proper thinking about it. I thought about it for two days and then I texted John and asked if the offer was still on the table, and it was!
About a month later I moved in with John and Mauro in the three room apartment. We turned it into a huge office with two big whiteboards on the walls, desks, computers and printers. Every Thursday our apartment was filled with entrepreneurs who came to IOE (Island Of Entrepreneurs) to talk business and meet other entrepreneurs. We had a blast. Finally I had found a forum for me. Or the forum had found me. I loved it. Business all day long. I initiated the most important project of my life. A project where I aim to become financially free. Not necessary make millions of dollars. But to earn enough passive income to be able to spend my life doing ONLY things I want to do and spend the time with the people I love. You can hear more about it in the podcast "The Young Lifestyle Entrepreneur" I launched during that time.
Long story short is that Mauro moved to Lund about 4 months later to pick up his studies. I was headhunted for a job as a business developer at a business incubator and John got at job as a project manager. We worked about 50% as employees and the rest of the 200% we worked with our own projects. It was a good decision to accept the position. I love my job and my colleagues and it´s a very good learning experience that I will find useful in my future career as a business developer and entrepreneur. One day I want to work as an investment manager. Later on, when I´m older and rich I want to become a business angel working with young and hungry entrepreneurs just like me today.
So how did my project go? Good I must say. I´ve learned a ton about affiliate marketing and ads online. I am making money passively. It´s still not much but it´s something and I now know what it takes to reach my goal. Oh yeah, by the way, the story goes on…
So just recently, John met with a girl and moved to Chile, where she´s from. Bust just a months earlier a new guy (Erik) came to stay at our apartment while he was looking for his own place. But since John moved out and I found Erik to be a very nice guy, he just took Johns room and now we´re "combos". I met with Eric 2012 when I was in the business accelerator Outreach funded by Swedish International Development Agency (SIDA). Life takes it´s turns. Erik is kind of a hippie. He´s into dumpster diving, sustainability, growing plants, recycling and eating beans and vegetarian food. He eats really healthy so I´m doing my best to get inspired and learn from him. I think it was ment to be that he all of a sudden came to Växjö.
During the IOE meetings I met with another guy, Adam. Adam is a very skilled marketer. I very seldom get impressed by people but I love when I do. And Adam is an impressive guy. He has managed to do something that seemed impossible. He´s selling leeks to people as a gift. Wtf?! Yep, true story. If you´re from Sweden you have to check out www.Purjogram.se. Anyhow, we got a lot in common. He loves the simplicity in business just like I do. So one day about 3 weeks ago we were having a pizza lunch and we were talking about business in general. All of a sudden we came up with a new business idea and 12 hours later we were up and running. Three hours after launch we sold our first product and 12 hours later we had sold 3 products. So basically, in 24 hours we launched a new business concept and sold 3 products. If that´s not entrepreneurship I don´t know what entrepreneurship is. So, me and Adam has joined forces and are now business associates. It´s so much fun and I´m really looking forward to see how this will develop =)
And there we are, that´s probably the end of the story so far. I want to thank John for being such an open minded guy and inviting me to live with him and Mauro. That was the game changer! Without you, without Island of Entrepreneurs I wouldn´t have met so many new lovely friends. För två år sedan kom du in i mitt liv. De senaste sex månaderna har du vart min kombo. Resten av mitt liv är du min broder! Thank you John!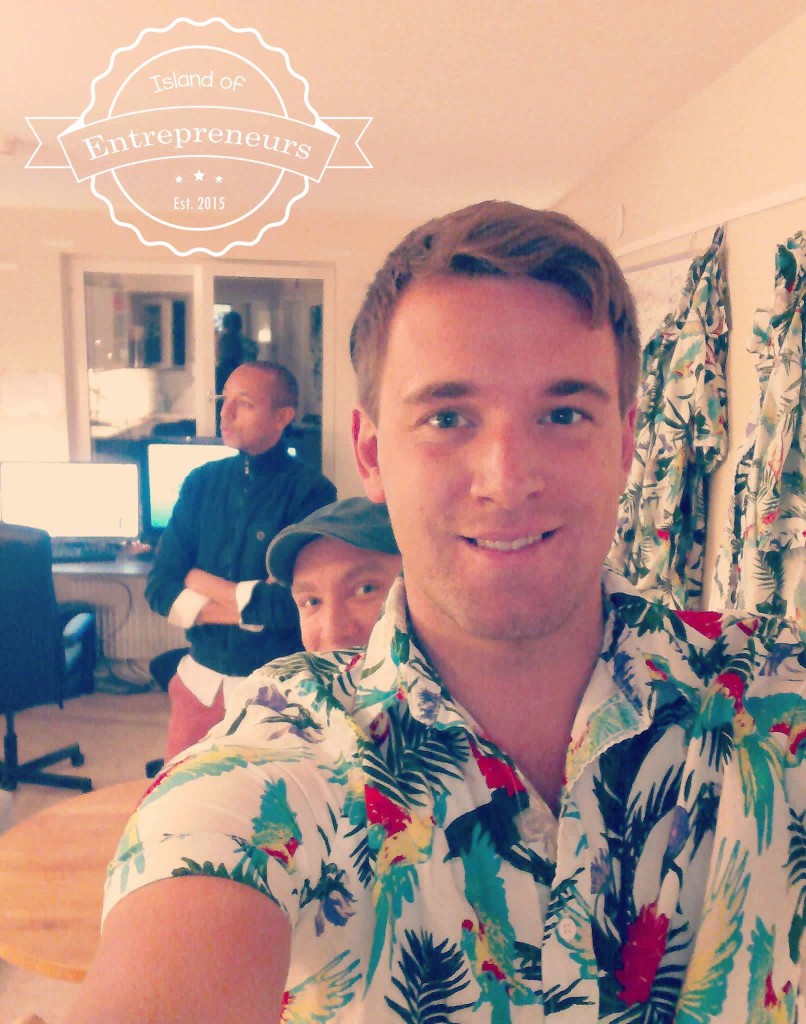 Life is good, life is interesting. And there are so many more awesome things to come soon. But it´s too soon to tell about it =) But I do admit I´m kind of tired. I´ve been working hard for quite a long time. But hard work pays off and I think this very moment is the time when you really feel that it was all worth it. Now is the time to enjoy!